February 24, 2011
There are 120 comments on the article, the majority of them lambasting Stevens for attempting a DID defense.  What are your thoughts?
Stevens: I didn't know alter ego was stealing

Jan. 21, 2011

Written by
TOM WITOSKY

Phyllis Stevens says she first learned she embezzled nearly $6 million from her employer on the day Aviva USA officials confronted her about it, court records say.

That claim is contained in a psychiatric report filed this week as defense lawyers asked U.S. District Judge Ronald Longstaff for leniency when he sentences Stevens and her spouse, Marla, today on charges related to embezzlement.

"I didn't know about the computer fraud at all until I talked with Aviva," Stevens told Dr. David Drake, a Des Moines psychiatrist, during six hours of interviews. "They told me I had been stealing money and 'we know you did it.' As the core person, I didn't know that."

Stevens faces a maximum prison term of 48 years and fines totaling $1.75 million after pleading guilty to six counts of wire fraud, computer fraud, aggravated identity theft, conspiracy to commit money laundering, money laundering concealment and filing false tax returns.

The rest is at the link… http://www.gannettonline.com/external/scripts/momslikeme/?siteid=6171
January 26, 2011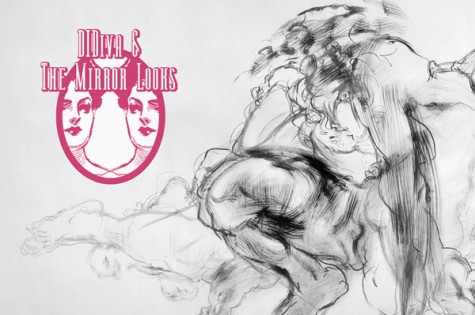 Lynn Schirmer, detail: "It's a Contest" Acrylic and pastel on paper, 80″ H x 144″ W, 2010
Yes, the Diva is having a show… from the Press release:
Center on Contemporary Art Presents:
DIDiva & The Mirror Looks
New Work by Lynn Schirmer
Curator: Joseph C. Roberts
February 8 – March 6, 2011
Artist's Reception, Thursday, February 10, 6 – 9 pm
CoCA Ballard, 6413 Seaview Ave NW, Seattle, WA 98107
On View Weekdays 10 am – 5 pm, February 8 – March 6, 2011
Lynn Schirmer's figures overlap, blend features, and braid limbs suggesting complex relationships and boundary conflicts. Her groupings hint at formative struggles frozen in motion in memory. Schirmer produces her flat work spontaneously and draws exclusively from interior sources. The result is psychological self-portraiture, thought form rendered corporeal.
DIDiva & The Mirror Looks is the second in a series of Schirmer's exhibits carrying the DIDiva brand. DID stands for Dissociative Identity Disorder and Schirmer has the condition. DID was formerly and perhaps more commonly known as Multiple Personality Disorder (MPD).
Schirmer says: "DID is greatly misunderstood and overly sensationalized. Hollywood and the media are major culprits. A recent example is Showtime's appalling The United States of Tara. I have seen editors of prestigious news outlets conflate DID with schizophrenia. The clinical community might be of assistance but complex political and social processes hamstring it and the disorder is unfairly labeled "controversial". So the lay public remains woefully misinformed and anyone with the condition lives in unnecessary isolation or faces painful stigma. In answer to these outrages, I brought DIDiva to life."
With her DIDiva activities, Schirmer joins the ranks of those who've "come out" as having the condition. Some notables include football player Hershal Walker, writer Matthew Branton, and former president of the Asia Society, Robert Oxnam.
Lynn Schirmer is a Seattle artist, activist, and web designer. She is the former Studio Coordinator and Curator of Corridor Gallery at the Tashiro Kaplan building. She exhibits nearly as frequently in New York as she does in Seattle. In 2010 she was awarded a certificate of merit from the New York State Assembly.
More information:
http://LynnSchirmer.com
http://DIDiva.com
CoCA Seattle
Lynn Schirmer, Detail: "Bridge" Acrylic and pastel on paper, 72″ H x 108″ W, 2010
April 14, 2010
"neuro-realism"

(Neuro-realism reflects the uncritical way in which a fMRI investigation can be taken as validation or invalidation of our ordinary view of the world. Neuro-realism is, therefore, grounded in the belief that fMRI enables us to capture a 'visual proof' of brain activity, despite the enormous complexities of data acquisition and image processing.)
…Until some intrepid team of well funded debunkers accurately and repeatably tears down the statistical analysis methods of the various and specific FMRI studies bolstering the existence of differing brain activity patterns for alter ego states in cases of DID.
Whew! that was a mouth full! I hope you follow my point.  I wonder if this is the vanguard for the next skeptic brigade? We shall see I suppose.
Of course it might help discussion in general if I got to some point near half way finished of listing those studies and others here on the site.  The Diva asks for your forgiveness in that area as well, but she's been busy with out of town guests.
Yes, Annie, "Follow the trail of personalities!"… was very funny. Various of us are still giggling.