January 26, 2011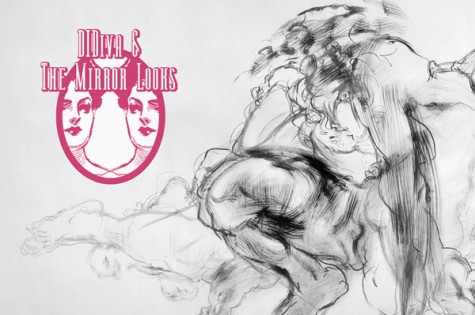 Lynn Schirmer, detail: "It's a Contest" Acrylic and pastel on paper, 80″ H x 144″ W, 2010
Yes, the Diva is having a show… from the Press release:
Center on Contemporary Art Presents:
DIDiva & The Mirror Looks
New Work by Lynn Schirmer
Curator: Joseph C. Roberts
February 8 – March 6, 2011
Artist's Reception, Thursday, February 10, 6 – 9 pm
CoCA Ballard, 6413 Seaview Ave NW, Seattle, WA 98107
On View Weekdays 10 am – 5 pm, February 8 – March 6, 2011
Lynn Schirmer's figures overlap, blend features, and braid limbs suggesting complex relationships and boundary conflicts. Her groupings hint at formative struggles frozen in motion in memory. Schirmer produces her flat work spontaneously and draws exclusively from interior sources. The result is psychological self-portraiture, thought form rendered corporeal.
DIDiva & The Mirror Looks is the second in a series of Schirmer's exhibits carrying the DIDiva brand. DID stands for Dissociative Identity Disorder and Schirmer has the condition. DID was formerly and perhaps more commonly known as Multiple Personality Disorder (MPD).
Schirmer says: "DID is greatly misunderstood and overly sensationalized. Hollywood and the media are major culprits. A recent example is Showtime's appalling The United States of Tara. I have seen editors of prestigious news outlets conflate DID with schizophrenia. The clinical community might be of assistance but complex political and social processes hamstring it and the disorder is unfairly labeled "controversial". So the lay public remains woefully misinformed and anyone with the condition lives in unnecessary isolation or faces painful stigma. In answer to these outrages, I brought DIDiva to life."
With her DIDiva activities, Schirmer joins the ranks of those who've "come out" as having the condition. Some notables include football player Hershal Walker, writer Matthew Branton, and former president of the Asia Society, Robert Oxnam.
Lynn Schirmer is a Seattle artist, activist, and web designer. She is the former Studio Coordinator and Curator of Corridor Gallery at the Tashiro Kaplan building. She exhibits nearly as frequently in New York as she does in Seattle. In 2010 she was awarded a certificate of merit from the New York State Assembly.
More information:
http://LynnSchirmer.com
http://DIDiva.com
CoCA Seattle
Lynn Schirmer, Detail: "Bridge" Acrylic and pastel on paper, 72″ H x 108″ W, 2010
January 9, 2011
I know Trish to be a brave and well spoken survivor of extreme abuse. Below is a clip both she and psychologist Ellen Lacter produced of Ellen's 3 hour interview with her. In the interview, Trish goes into great detail about her recovery process and what it's like to live with DID.
The 3 DVD set is available on Trish's website:
http://morethananidea.wordpress.com/dvd-interview/
January 9, 2011
This looks sensitive and promising. It's due to be broadcast on CBC Wednesday, January 26 at 10 pm ET/PT (repeated at 1 am ET).
January 9, 2011
Has anyone seen Frankie & Alice?  I have not seen it yet, please advise.
January 9, 2011
It is very difficult and painful, but if you can, I encourage you to read his entire letter posted with the article.  Zeller left a gift to all of us by naming his pain.
From The Huffington Post Here:
http://www.huffingtonpost.com/2011/01/07/bill-zeller-dead-princeto_n_805689.html

Bill Zeller, Princeton Grad Student And 'Brilliant' Programmer, Dies In Apparent Suicide

First Posted: 01- 7-11 08:40 AM   |   Updated: 01- 7-11 03:16 PM

Zeller stunned the programming community with a 4,000-word suicide note detailing a childhood of physical and sexual abuse, which he had never before disclosed to anyone.

Bill Zeller, a Princeton Ph.D candidate and renowned internet programmer, died Wednesday from injuries sustained in a suicide attempt. He was 27.